Get Your Dog to Behave Like an Angel in
8 Weeks or Less
GUARANTEED
How to Quickly and Easily Train Your Dog to Be Well Behaved at All Times

If you've considered getting a dog trainer to fix your pup's bad behavior—DON'T!
I say, Do It Yourself!
There's nobody better to train your dog than you, the owner.
What do I mean by "train"? Well…
Maybe your "best friend" is…
Peeing in the wrong places or at the wrong time…
meaning you have to CONSTANTLY clean up after your pooch
Barking all the time…
And embarrassing you around your neighbors
Chewing everything in site…
meaning "bye-bye" to those designer shoes
Displaying aggressive behavior to people…
to the point that you're scared to invite people over
Digging holes in your lawn…
and throwing your entire landscaping budget down the drain
Being anxious when you are about to leave the house without them…
and then wreaking havoc on your house while you're gone
Jumping up on guests…
and dirtying their clothes or toppling over grandma
Difficult to walk on a leash….
constantly pulling you too hard and disobedient to your directions
Being a fussy, finicky eater…
meaning you constantly have to worry about whether or not your pooch is fed enough or too much
Running away if given half the chance…
while you ending up spending time searching for your pup instead of doing what you have to get done
Being aggressive to other dogs…
whether it's other dogs on the street or even your other pets in the house
Nipping or growling at you or others…
and being a plain, old, grumpy and bossy dog!
You're certainly not alone if any of these problems crop up from time to time.
Which is why I'm writing to you…
Whether you've got a new addition to the family you want to train, or whether you have an older dog who never quite managed to get trained in these basic but important daily activities…
You are the best candidate to turn your diva dog into a well-behaved companion.
That's why I'd like to present you with a do-it-yourself training manual that will save you hundreds of dollars on dog trainers and show you the fastest, easiest methods to get your dog to behave like an angel.
Imagine… having a dog that is a pleasure to have inside the house at all times, that makes your walks enjoyable, and that's gentle with children and guests.
Imagine you come home from a busy day and your dog greets you at the door or in the backyard without literally knocking you off your feet or peeing from excitement.
Or imagine being able to relax when you have company, rather than having to lock your dog in a room for fear of guests being jumped on or "licked to death."
Imagine your lovely carpets or rugs free and clear of pee-stains…
Imagine your dog eating whatever you feed it and not spending the entire dinner time under the table begging for food with those pleading eyes…
Wouldn't that be a change?
If you could take your dog for a walk without being pulled forward so hard you almost dislocate your shoulder…
Or if you didn't have to play referee between your dog and other dogs in the park… or the other dogs in your home!
Best of all, imagine that every time you go to work, you leave behind a calm, happy dog who doesn't start to whine the minute you pick up the keys and get ready to go…
Imagine knowing and mastering the simple dog training secrets that really work, without having to spend hours of your own time training and without having to spend hundreds of dollars on a professional dog trainer!
No more fear or embarrassment that your pooch will do the wrong thing and end up in trouble—or worse, end up hurting itself or someone else.
So THAT's why I'm writing this letter.
To show how I can help you fix those dog-training problems at home—quickly and easily—without costing a heap of money for dog trainers and dog training books.
Because the truth is…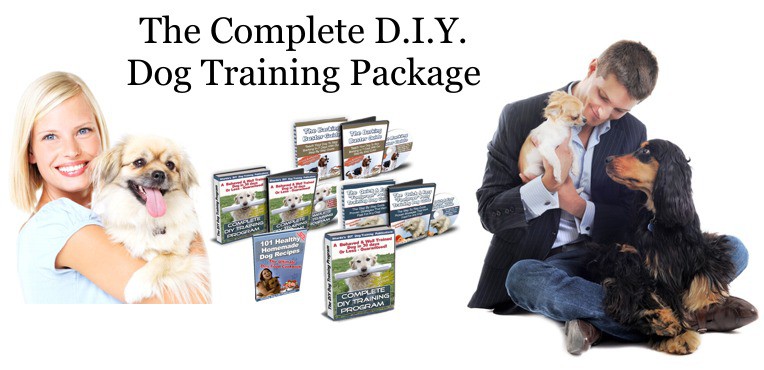 "You Really Can Teach an Old Dog New Tricks."
And of course—you can DEFINITELY teach a new puppy all these tricks.
The best part is… you don't have to spend a small fortune on a dog-trainer, or spend hours, and hours of painstaking training.
Right now, you're probably thinking—"who is this woman and why should I listen to her about training my dog?"
Well, I'm no dog-whisperer in terms of fame—but I can certainly get you the same results.
My name is Sharda Baker and I've already published several e-books on the subject of healthy dogs and healthy lifestyles for pets.
One of the most common questions I hear from frustrated dog-owners is, "How do I train my dog to behave well without having to spend HOURS in dog-training classes that don't fit my schedule OR without spending a fortune?"
Well—the answer is: it's easy! You can train them yourself… You just have to know what to do. So I present to you…
The Do-It-Yourself (D.I.Y.) Method
Having a healthy, well trained dog has certainly enriched my life and my family's life in a way that no object, TV show, or vacation ever could!
And yes, I'll be honest…
I, like most other dog owners, have had my share of dog training problems over the years.
But what I've found, is that dogs want to please their owners—and that means they start behaving well in just a couple of days of training, if you do it right.
My biggest passion in life is helping people care for their dogs and I believe that no dog owner should need to go through headaches, stress, time and extravagant expenses to have a good dog that's a great companion.
The stress of a misbehaved dog can take its toll on the entire family and home. But don't let that trick you into spending obscene amounts of money on your pet—just to see little results.
Am I saying there is no place for professional dog training courses? No I'm not. Of course they have their benefits. But in the majority of cases, you can train your dog BETTER at home, by yourself and it's quicker, easier and much less expensive.
So if you believe you can train your dog better than anyone else, I present to you the D.I.Y. Dog Training Package, 2nd Edition, where you can discover….

How to Potty Train your dog in 24 Hours…. Plus, finally get the full scoop on "potty training pads" VS. the crate

Understand why dogs suffer from "separation anxiety", why they get so upset and most importantly how to treat and prevent it from happening…

The No. 1 reason why people sell or give up their pet and how you can avoid getting to that point with your dog… and turn him or her into a perfect pooch

Discover how to control your dog's barking by knowing the ONLY real reasons WHY dogs bark… and the proven methods to quickly control excessive barking

Learn the 3 special voice tones you should be using that will dramatically change the way your dog responds to you… Plus, understand how dogs "speak" to each other and how this can help you train them faster

How to potty train your dog to go "inside". Useful for those living in an apartment or in extremely cold climates! Plus, find out if you should be using a litter box with your DOG—this knowledge could be helpful to those who are out at work most of the day and are forced to leave their dog alone.

The 3 easy steps to manage the dog that's become a picky eater and has become too skinny or too fat

A simple technique for teaching your dog some advanced commands such as; "wait", "leave it", "crawl", "right and left hand turns" while walking on a leash, "fetch", "roll over", "play dead" and many more

WHERE and HOW you should choose your next dog if you plan to make a new addition to the family

Discover how to teach your dog to be calm around other dogs, so he or she can stay relaxed around other animals and people without being aggressive

Understand the possible ramifications of leaving food and water out overnight for you doggie

How to make sure you are not throwing your money away if you visit a professional dog trainer

Discover the questions you should be asking ANY breeder before you buy a new pup from him/her—Plus, what they should ask you. If they don't ask this—scram out of there and go somewhere else to find a pup!

Learn how you may have been unknowingly teaching your dog to respond the "wrong" way to your commands. (No, it's not rocket science but why hasn't this been talked about more before?)

Discover the rules of crate training. It's not simply locking your little doggie up in a cage! (Understand how to use this proven training technique for dramatic results fast).

Discover the TWO common house plants that may be causing your dog's allergies. Plus, the causes and treatments of allergies finally explained clearly and simply by a Veterinary Surgeon.

Discover the surprising health benefits of Omega 3 and Omega 6 oils in your doggies diet. Plus, the 3 foods to NEVER feed you dog. Discover what to do if you or someone else accidentally does. (You will be shocked.)

Learn how to quickly and easily teach you dog to walk on and even OFF a leash in public.

Find out the extremely important tips regarding safety for your young children and your dog… And why too many children are unnecessarily injured by dogs each year

Learn how to manage the "older" dog's training needs. Not all of us are lucky enough to have the chance to teach our doggies from when they were pups.
Understand why your dog may be chewing everything in site and what to do about it. (Easy to follow tips and real life examples to illustrate how to stop it now!).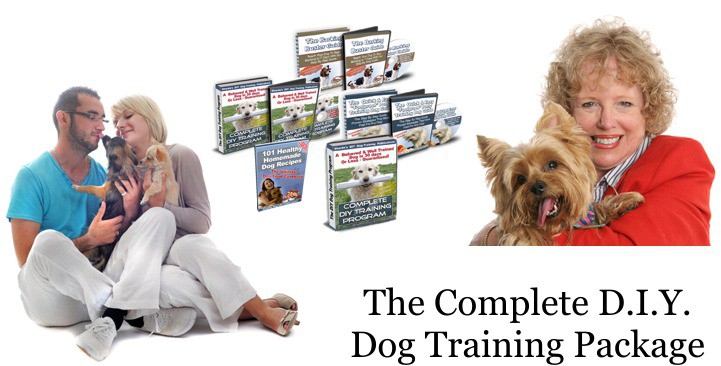 You'll Get the Answers to Your Concerning Questions
"Should I consider using newspapers to potty train my dog?"
"My dogs won't stop humping what should I do?"
"How can I safely introduce a new puppy into my family?"
"How can I teach my dog not to eat his poop?"
"My dog "pees" at every tree when we are out walking, how can I teach him to stop it"?
"My dog has started nipping and biting when I groom or touch him, what should I do to make him stop it"?
" How do I teach my doggy to stop barking quickly and easily"?
"How do I stop my dog "marking"?
"My dog is over 3 years old, can she be potty trained?"
"I have a dog that runs away the minute the door is open. Help!" (Ok, that one isn't a question…)
"My lawn is being ruined by my dog, how do I get him to stop?"
"How do I stop my dog from chewing our furniture at home?"
If you had answers to these questions… Wouldn't you have a much better chance of owning a dog that is well behaved and a happy part of your family?
Don't You Owe it to Yourself,
Your Family and Your Dog?
Well, in the D.I.Y. Dog Training Package, everything is explained in plain English. The Package is logically laid out, has clear detailed explanations and many helpful pictures. Plus, it's easy to navigate, so you can choose exactly which parts you need to know NOW and read them first.
There are other resources out there retailing for ridiculous prices—even $239 or $100/hour sessions… But the D.I.Y. Dog Training Package will give you so much more for a fraction of that price.
When I put together this package, I did NOT hold back. Plus, I always answer my e-mail when my clients contact me with specific questions about their own pet.
Because this is the initial release of the 2nd Edition D.I.Y. Dog Training Package, the first 1000 copies sold will be DEEPLY Discounted—49% OFF.
In fact, here's everything you'll get with the D.I.Y. Dog Training Package Today with the 49% OFF Early Bird Special available only for the first 1000 copies sold.
The Complete D.I.Y. Dog Training Guide
The second edition of the D.I.Y. Complete Dog Training Guide covers step-by-step how to manage every common bad dog behavior that owners come across. Plus, it teaches you dog psychology so you can understand how they think and how to communicate with them in their own language (and no, I don't intend to teach you to bark! I'm talking about a certain type of behavior and attitude you need to have.)
It covers potty training, barking, aggression-management, walking on a leash, and basic & advanced obedience training (including commands like come, sit, drop, stand and heel, rollover and fetch).
It'll also show you everything you need to know about managing problems like aggression, separation anxiety, training equipment needs and crate training. It's suited for old dogs and puppies.
D.I.Y. Dog Training Guide Audio
If you prefer to listen to the D.I.Y. Dog Training Guide described above instead of reading it—you'll have that available in the package. This audio of the "D.I.Y. Dog Training Guide" can be downloaded and played in your computer or mp3 player, or even burned to a CD and played in the car's CD player.
You can listen it while working around the house, while shopping, or while driving in traffic.
Potty Training in 7 Days E-Book
The Potty Training in 7 Days e-book covers the new pup as well as the adult dog that may have come from a shelter or from a home where potty training was not completed.
It is written in a simple, fun easy to follow format that really works fast!
It is 100% Guaranteed to have your pooch potty trained in 7 Days or you can get your money back—no questions asked.
The Barking BUSTER Guide
A dog that is barking out of control can drive you and your neighbors nuts! This e-book (and the professionally recorded audio included) outline the easy steps you can to take to quickly control your barking dog.
The techniques in this e-book took me years to perfect, and I can guarantee you that you'll be amazed at how quickly your dog will stop barking and listen to you when you tell him or her to stop.
It's 100% Guaranteed to work for you, or you'll get your money back—no questions asked!
The Vet Health Tips Interview
The Vet Health Tips Interview is a sit-down where we get the insights of a Veterinary Surgeon who specializes in dogs.
It's packed with helpful dog health information, including the 3 most dangerous foods to your dog's health, dog pregnancy help and advice, and the MUST-KNOW details about emergency care for your dog.
Plus, you'll discover a large section on managing your dog's allergies easily, how to BEST care for your dog before and after surgery, all about spaying and neutering, and much, much more.
A full transcription of the audio is also included, if you prefer to read the interview as opposed to listening to it.
Managing Eating Problems E-Book
This short e-book, leads you through two of the most common eating problems that affect so many dogs: The picky eaters and the overweight dogs…
Each one of these eating behaviors is very easy to change, when you know the exact systematic steps to take to overcome each problem.
As with all my products—there's a 100% Satisfaction Guarantee—I'm THAT positive my techniques are full-proof and will save you time and money.
Free Subscription To Our Healthy Dog Life Forum
A free membership to our special dog health, dog training and dog care online forum will provide you access to our private forum where you are able to ask dog questions you might have and get an answer. The membership also includes additional dog health and training information that you won't find anywhere else.
You'll be able to simply type in your question, or describe your problem and the answers will flood in from all the other dog owners and dog experts that are a part of this private forum.
101 Healthy Homemade Dog Recipes E-Book
This popular e-book will give you 101 yummy, very healthy, home cooked meals for your dog. Each delicious and healthy recipe includes a convenient list of ingredients… and a set of complete step-by-step preparation and cooking instructions that are simple to follow.
It even contains a very helpful section that shows you how to simplify the entire process and make it even faster and easier.
As an early bird buyer you'll get 49% OFF
the original price ($112.40) RIGHT NOW
That means that instead of $112.40 for the ENTIRE package, you'll pay just $57 for the entire D.I.Y. Dog Training Package.
This price will only last for the first 1000 copies sold, so get your discounted copy now before they run out.
Remember, for just $57 today, you'll get:
I am 100% sure that this product will over-exceed your expectations and provide the best resources you can find when it comes to at-home dog training.
That's why every e-book you will ever receive from me, is backed by a 100% No Questions Asked MONEY-BACK GUARANTEE. If for any reason whatsoever, you decide you'd like a refund within the first 60 days, you will immediately be returned your money—no questions asked.
So take advantage of our Early Bird offer today and get 49% OFF the D.I.Y. Dog Training Package, available for only the first 1000 copies sold.
Wishing you great success with your "best friend."
Warmly,
Sharda Baker
P.S. Check out what relieved dog owners who got the 1st Edition D.I.Y. Dog Training Package had to say…
"Your Dog Training Package has literally saved my darling Reggie from going back to the Rescue, where we adopted him—which my husband was threatening to do… Reggie is now such a well mannered little Bichon Frise that you wouldn't recognize from 8 weeks ago."
—Katie Simpson, South Greenfield, Missouri

"In only 3 short weeks following your techniques from your package, Buddy is like a 'new dog'!"
–Nancy Boyer, Portland, Oregon
"I had bought 5 training guides but none that were as complete and as easy to use as yours. Why didn't I find you earlier, Sharda?
–Janine Kemp, St. Ives, England

"Your guidance has made such a dramatic improvement already… and I am impressed by your prompt response to all of my email questions. I was on the verge of thinking about returning Chivers but now I think things will be fine."
–Phyliss Weaver, Wellington, New Zealand
"It's working really well, after only a few days the little fellow Oliver knows to go potty on the yard and not in the house. I have never had a baby that is so well behaved, this is so wonderful and I wish I had your training e-books and audios years ago."
–Kathryn, England
Click here to get your hands on the D.I.Y. Dog Training Package for 49% OFF