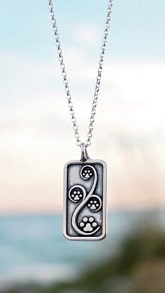 Limited Time Sale Price
$88.00
$43.00
Life With Paws
The perfect gift for a dog lover. When you wear this, it's like a secret handshake for dog owners.
This is a remarkable piece with a special message to those who truly love the special connection between humans and dogs. Each of the four paw prints represents one of the four chambers of the heart.
The curving line is actually the outline of a heart that is opened. When the human and dog connect the heart closes and becomes one. You and your fur baby are connected at the heart forever.
What a blessed way to remember them, honor them, and cherish them.
We call this piece Life With Paws.
It is Sterling Silver and made in the USA. It comes with an 18″ sterling silver chain in an attractive gift box. Regular price is $88.00.
Limited time sale price now only $43 with sterling silver chain and gift box.
Order today because supplies are limited.
Limited Time Sale Price
$88.00
$43.00
Amanda Gilliland –10/02/2015:
Most Beautiful PendantI wanted to share that I'm a retired surgical CardioThoraic R.N. Having worked in open heart surgery & transplants of hearts and or lungs this is very special to me to see something of my profession with all my dogs that have been in my life.This is the most beautiful pendant I have ever seen with the meaning behind it.Since retired due to health, I rescued senior & special needs dogs. I have 6 rescues now. 2 are 19 years old which I've had since 3 months old, 3 are 13 years old & a 2 year old. I have been a hospice home for several dogs. It is hard but such a blessing to have them in my life.Life With Paws really means a lot to me because I have so many paw prints over my heart & in my heart.Thanks for making such a beautiful reminder of the human dog bond I have shared with my amazing fur babies. I know it will enjoy wearing this so much.
Sincerely,Amanda Gilliland RN
Browse Other Items Here